Autumn Academy 2021 "Decentralized Governance and Autonomies" is a three-day, November 11-13,2021, intensive academic programme delivered by experts from the EURAC Research Institute, Moldova State University and Comrat State University. The Academy offers leading mid-career professionals and academics working on autonomy issues the opportunity to learn about international best practices and mechanisms for autonomy governance and to explore potential options for their application to centre-autonomy relations.
To ensure the high quality of the programme, the Autumn Academy is limited to 25 participants who will be selected from a pool of applicants by a panel of experts. Participants are required to attend all three days of the programme and will be provided with a certificate of completion, as well as the opportunity to attend the International Conference on November 15th, 2021.
The first Autumn Academy was organized in 2019. Representatives of civil society, the media, and central and local authorities took part in the Autumn Academy. For 4 days, 38 participants from Comrat, Transnistria and Chisinau got acquainted with international and national legal principles of decentralization and autonomy.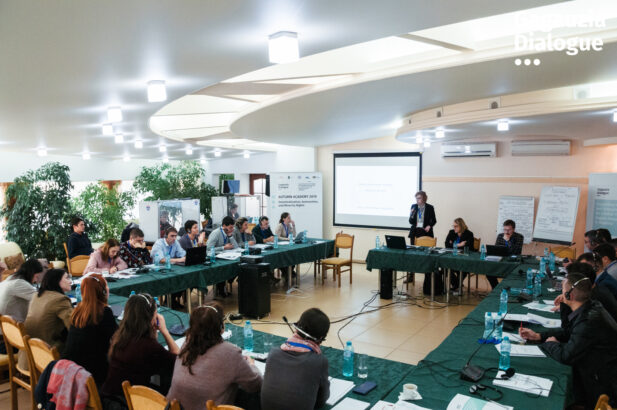 AUTUMN ACADEMY CONTENT
The Academy is a residential program, comprising academic lectures and group work with opportunities for networking between participants to develop a new community of experts in decentralization and autonomy issues. Areas of focus will include:
Decentralized Governance, Autonomies, Minority Rights
Autonomy Arrangements: Standards, Principles, Examples
Dimensions of Intergovernmental Relations
Decentralized Governance and Gagauzia Autonomy in Moldova
Decentralized Policy-Making: Comparative Reflections and the Practice in Moldova
The program is delivered by local experts from Moldova State University and Comrat State University, as well as international experts from Eurac Research in Italy, leaders in the field of comparative federalism, autonomy issues and minority rights.
APPLICATIONS REQUIREMENTS
The organizers welcome applications from early to mid-career practitioners working in NGOs or political foundations located in Moldova, civil servants working in government bodies in Chisinau and Comrat, and students, academics, graduates and PhD students at Moldovan universities or research centres specializing in law, political science, and public administration. Applicants must:
Be between the ages of 23 and 40 and reside in Republic of Moldova. Age exceptions may be made for outstanding candidates and/or government employees;
Demonstrate strong academic achievement and work experience in the field of decentralization, autonomy issues and/or minority rights. Preference will be given to candidates with background in political science, law, public administration, conflict resolution and policy development;
Demonstrate strong leadership qualities and a commitment to public or community service, as well as an openness and readiness to connect with others and challenge existing views.
APPLICATION PROCESS
To apply, please follow the link and fill in the online application form.
Deadline for submission of applications is due by October 15, 2021.
FUNDING
For selected participants, all the costs associated with participation in the academy programme will be covered by the organisers.
INFORMATION/CONTACTS
Because of the pandemic situation in the Republic of Moldova, information about the venue of the event will be sent later, depending on the selected format (online/offline).
The Academy will be conducted with translation into Romanian, Russian and English languages.
Important notice!
In the case of an offline academy, all selected participants will pass a quick antigen COVID-19 test (costs will be covered by the organisers).
For further details or additional information, please contact us at: cmi.chisinau@cmi.fi
ABOUT THE ORGANISERS
The Autumn Academy 2021 "Decentralized Governance and Autonomies" is delivered by the "Supporting Inclusive Dialogue and Strengthening Capacities for a Better Functioning Gagauz Autonomy in Moldova", a three-year project bringing together legislators and interested parties from Chisinau, Comrat and across Moldova to find joint solutions to common issues related to the Gagauz autonomy. The project is running from 2019-2021, implemented by CMI – Martti Ahtisaari Peace Foundation with support from Eurac Research and CONTACT NGO, and is funded by Sweden.
About CMI – Martti Ahtisaari Peace Foundation: CMI is an independent Finnish organization that works to prevent and resolve conflicts through informal dialogue and mediation. Nobel Peace laureate and former President of Finland Martti Ahtisaari founded CMI in 2000. Since then, the organization has grown to become one of the leaders in its field.
About Sweden: Sweden has a long-term commitment for continued support to Eastern Partnership countries through its Results Strategy 2014-2020. Key priority areas include strengthened democracy, greater respect for human rights, a more fully developed state under the rule of law, and gender inclusion.
About Eurac Research: Since 1992, the Institute for Comparative Federalism and the Institute for Minority Rights of Eurac Research in Bolzano/Bozen, South Tyrol, Italy, do basic and applied research on federal, regional and local issues, and in the fields of minority rights and territorial autonomies. The team, composed of comparative constitutional lawyers and political scientists, looks at how constitutionalism and transnational law affects the governance of societal and territorial pluralism.
CONTACT Centre is a non-profit independent non-governmental organisation. Since 1995, the Centre serves as a platform of communication, debate, resource, analysis, knowledge and skills for civil society leaders from Moldova. CONTACT Centre take an active part in the development of a democratic society in Moldova by strengthening the potential of civil society, encouraging civic initiative and promoting the good governance principles.
Moldova State University (MSU) was founded on October 1, 1946 being one of the oldest and the biggest university in Moldova with more than 120 thousand graduates working in various areas: economy, education, culture, justice, politics, public administration etc. In recent years MSU faculties such as Faculty of International Relations, Political and Administrative Sciences (FRIȘPA) and others have increased their presence internationally by engaging in collaborative projects with EU higher education institutions and NGOs, aiming to contribute to institutional and market reforms, democratization and integration policy, peacebuilding and conflict resolution, civic engagement promotion.
Comrat State University (Komrat Devlet Universiteti, KDU) founded in 1991 is the centre of continuous education, science and culture in the Autonomous Territorial Unit of Gagauzia. The main goal of KDU is education and training of highly qualified specialists and academic stuff in the fields of economics, pedagogy, law and public administration, agriculture, etc.