On January 29, 2021, the CMI Legal Expert Group organized a workshop in partnership with international experts from Eurac Research Institute for Comparative Federalism, where they discussed ways to improve institutional relationships between the centre and the autonomy.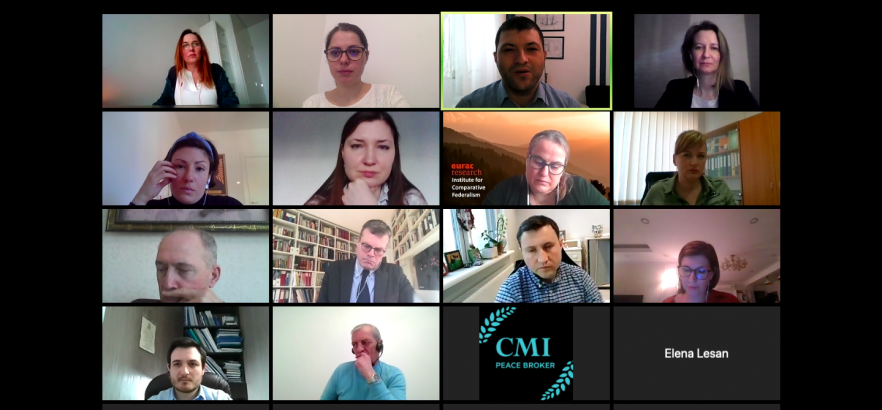 CMI legal experts presented proposals to introduce new ways to improve existing mechanisms for institutional competencies clarification.
During the session, ways of preventing disputes and their extrajudicial settlement were discussed, as well as effective models for consultations on draft laws, that could affect the competencies of the autonomy. Legal experts, together with Eurac experts, have developed new approaches to improving participatory and communication mechanisms at the national executive level, as well as in view of comparative experience.
Representatives of Eurac International Research Institute presented the experience of the autonomous province of Bolzano in Italy, also called South Tyrol, and shared institutional mechanisms for cooperation between the centre and the autonomy.
The CMI Legal Experts Group was organized at the request of the Parliamentary Working Group on Gagauzia to develop technical solutions for centre-autonomy institutional procedures and mechanisms. The Guide on the Centre-Autonomy Relationship, developed by CMI legal experts at the previous phase of the 'Dialogue on Gagauzia' project, has become a solid basis for development of expert group proposals, which include a number of recommendations based on extensive analysis of the relationship between the centre and the Gagauz Autonomy.
The structure of the Legal Experts Group was established within the 'Dialogue on Gagauzia' project to provide expertise and develop technical solutions to improve various aspects of the autonomy status and its relationship with the center. The Expert Group is a technical resource that provides legal expertise and support to different components of the project. The Expert Group focuses mainly on parliamentary dialogue and elaboration of proposals to improve institutional procedures and mechanisms for centre-autonomy cooperation. The group consists of four experts, two from Chisinau and two from Comrat, who have experience and knowledge in the field of law and the institutional context needed to implement the processes supported by CMI.
____
"Gagauzia Dialogue" is a three-year project bringing together legislators, experts and interested parties from Chisinau, Comrat and across Moldova to find joint solutions to common issues related to the Gagauzia autonomy. The project is implemented by CMI and funded by Sweden. CMI is a non-profit organization founded by Nobel Peace Prize winner Martti Ahtisaari, former President of Finland in 2000. The organization's efforts are aimed at preventing and resolving conflicts and maintaining lasting peace.